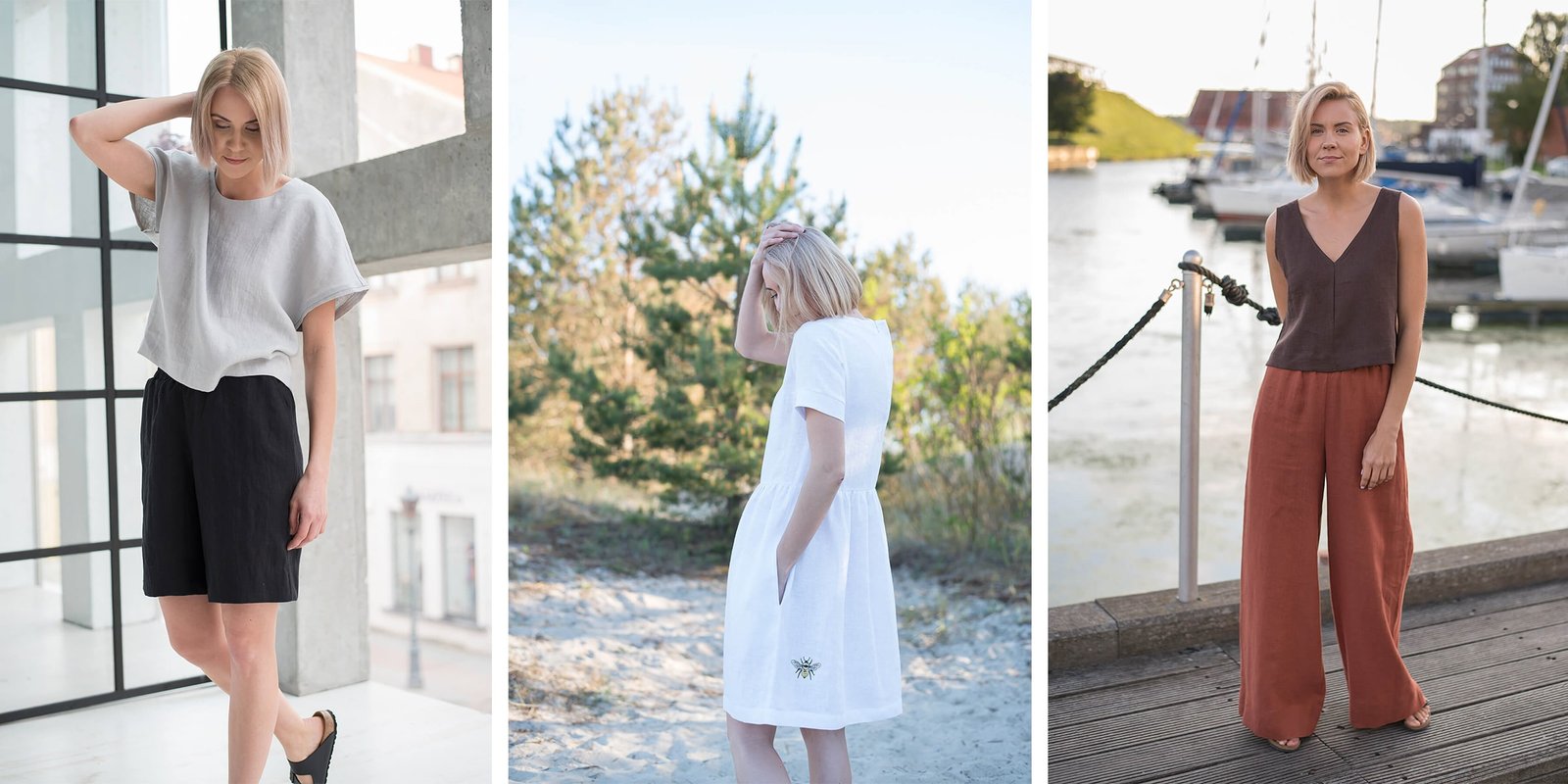 Wavy Linen® is a family-run clothing brand from Lithuania, Europe. Our priorities are quality, sustainability, functionality, comfort, and natural beauty. We focus on outstanding women, who are eager to express their inner charm, sense of freedom, and love for nature in their appearance. We admire and encourage those who seek harmony of their inner world and outside image.
We are inspired by linen simplicity, imperfection and long-lasting quality, which allows customers to wear items multi-seasonally. Most importantly, it has a tendency to become softer and more beautiful each time you wear it. The linen we use is sourced from the Baltic states and all our products are designed, trimmed, and sewn in Lithuania.
Sustainability
We care about our planet, which faces many issues nowadays. All our products are made of Oeko-Tex-certified linen fabric, which means they are absent from harmful substances and chemicals.
All designs are crafted in Europe at our studio in Telsiai (a town in Lithuania), and their production process suits all requirements of ethical fashion.
To contribute to our nature's well-being, we use earth-friendly compostable bags and packages (that are renewable) for shipping your orders.
We stand for a slow fashion free of mass production and overproduction. We are happy when you write to us and ask for advice. That way, we can ensure the product fits you as well as possible. Always sew in very small quantities, as small as we believe sufficient, to avoid leftovers and unnecessary use of fabric. We emphasize individuality in our work, which is one of the main values in our creations. Therefore we are ready to help you tailor the product to your needs and measurements if necessary.
All our fabric leftover is used for color samples and added to the order for customers who request it. All other raw linen fabric materials are used in our studio, given or sold at a nominal price to customers who need them most.
Our logo symbolizes who we are and what we stand for as a clothing brand with a dedicated team. It embodies our essential values, priorities, and personality. You can see subtly stylized initials of Wavy Linen, where letters W and L combine, creating a unique symbol of a plant and wave. It represents the power of life, where naturalness, growth, and the charm of unpredicted turns are key elements. Everything starts with a tiny seed, which with the help of soil, rain, and sun, thrives, and in careful hands full of love, becomes high-quality linen. And just like that, a vision based on freedom and comfort steps in turning it into effortless style designs with a hint of elegance and charisma. Wavy Linen – nothing more authentic than being who you are and wearing nature itself.